2022 Annual Conference
September 21, 2022 Published by Alex McCoskrie
Exploring Jodrell Bank WHS on Monday 3rd October.
As part of your conference ticket, there will be extra activities that will help you make the most of your visit to Jodrell Bank World Heritage Site.
During lunch break:
Staff from the Jodrell Bank Centre for Engagement will be on hand to talk about the pioneering science and fascinating history of Jodrell Bank, and to talk about the Centre's award-winning public engagement work.
Following the end of the day's presentations, at 17:15: Jodrell Bank World Heritage Site tour
A walking tour to the historic 'south side' of Jodrell Bank, the original heart of the observatory in the 1940s and 1950s. Learn about the discoveries that led to the new science of radio astronomy and walk in the footsteps of the Jodrell Bank pioneers.
This is a 40-minute outdoor walking tour. Some of the route is on grass. Please be prepared for the Cheshire weather with suitable footwear and a coat.
Sign up at lunchtime for three start times: 17:20, 17:25, 17:30
18:00 – 19:30: Food & Drinks in the First Light Pavilion
19:30 – 20:30
Night Sky Space Dome show (exact times TBC) – learn about the history of Jodrell Bank and experience a journey through the autumn night sky in Jodrell's new Space Dome, led by one of their knowledgeable explainers.
Story of Jodrell Bank exhibition – explore the new exhibition that brings the story of Jodrell Bank to life. An immersive encounter with the site's rich history, the exhibition uses original audio, film, documents and photographs displayed digitally and projected onto the original dish panels of the Lovell Telescope.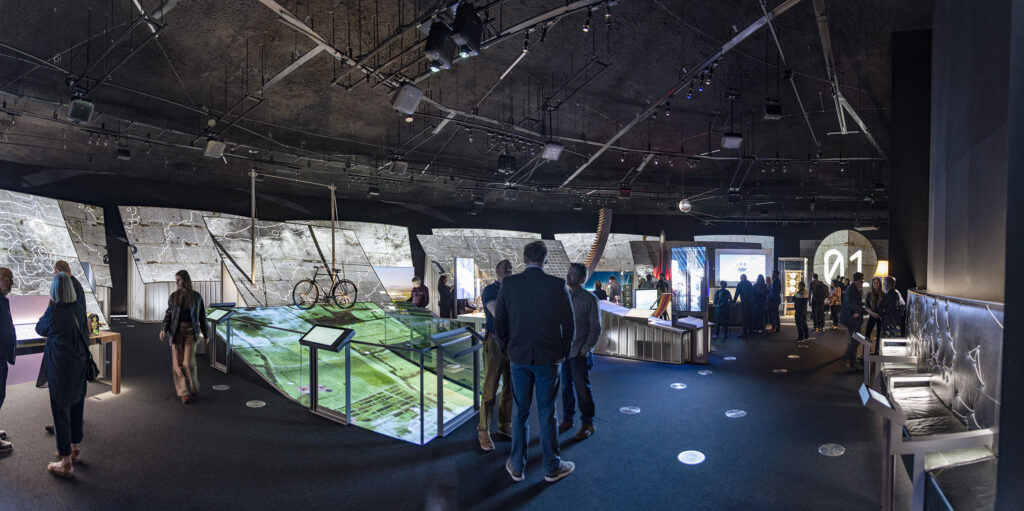 Images: Andrew Brooks