photo credit Rob McDougall
Climate Change
World Heritage UK's Climate Change working group is coordinating information and experiences on how individual sites are experiencing climate change and the work they are doing to adapt or mitigate the impact. This page and the Resources Page provide an area for sites to share best practice, case studies and information as we tackle this global phenomenon together
Climate Change
Our World Heritage Sites are at risk from Climate Change.
Climate change is threatening people, nature and heritage world-wide. In the UK both our natural and cultural World Heritage Sites (WHS) are facing growing risks from the impacts of climate change. Our World Heritage Sites need to adapt to changing weather patterns and global temperature rises.
UNESCO has identified climate change as a major threat to World Heritage. World Heritage UK (WHUK) is working with representatives of World Heritage Sites across the UK to work together to share experiences and learn from one another.
Examples of the impact at WHSs of climate change and case studies of what is being done to overcome these challenges are presented below.
To find out more about the work World Heritage UK is doing in this area contact WHUK Trustee Don Gobbett, don.gobbett@worldheritageuk.org
To read WHUK's COP 26 statement, please click here.
---
The Heart of Neolithic Orkney WHS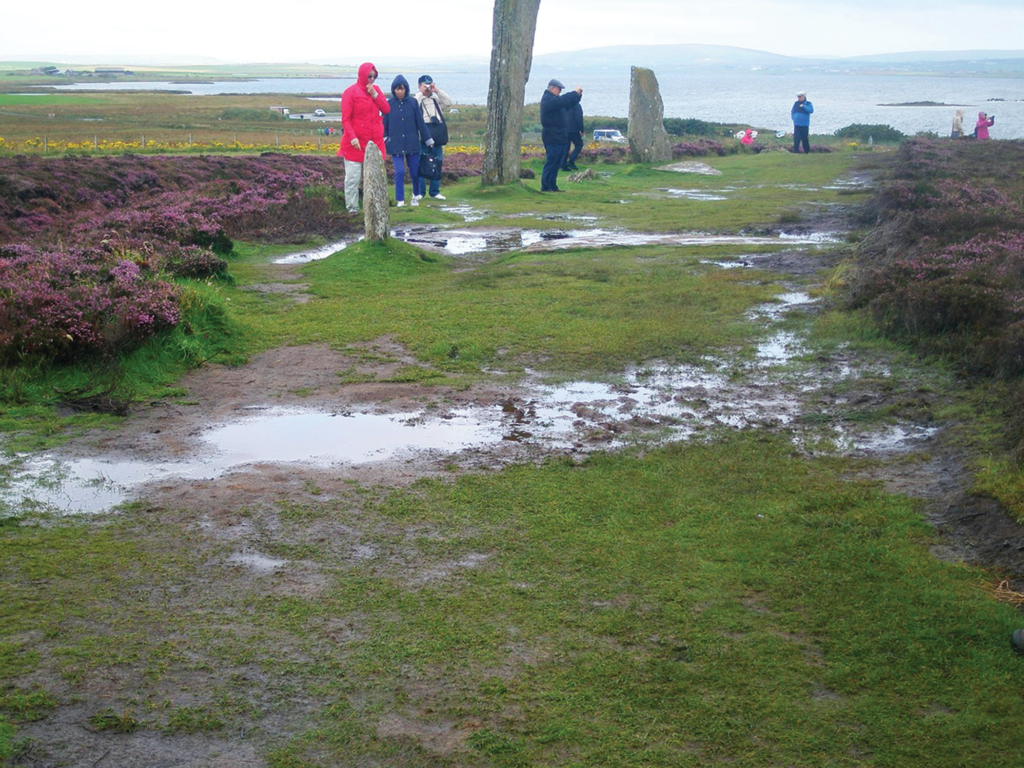 'Skara Brae was revealed by great storm in 1850, and had been protected by a sea wall since the early 20th century; this sea wall was later extended and needs regular repair. It is now clear that climate change has the potential to severely impact both the monuments that make up the World Heritage Site and the natural and historic landscapes around them.' Alice Lyall, HES
The Heart of Neolithic Orkney, dating from c. 5000 years ago, is located in the West Mainland of the Orkney archipelago, which lies in an exposed position off the north coast of Scotland between the Atlantic Ocean and North Sea. The vulnerability of parts of the World Heritage Site to extreme weather events and future sea-level rise was already a major concern. Skara Brae was revealed by great storm in 1850, and had been protected by a sea wall since the early 20th century; this sea wall was later extended and needs regular repair.
It is now clear that climate change has the potential to severely impact both the monuments that make up the World Heritage Site and the natural and historic landscapes around them. In 2019 a Climate Risk Assessment for the property was carried out, applying the Climate Vulnerability Index (a systematic tool to rapidly assess climate change risk to World Heritage). This found that the site was extremely vulnerable to the effects of sea level change, changes in precipitation (both the volume of precipitation, and also to changing patterns), and to possible increases in storm intensity and frequency. More than this, the potential for compounding factors to worsen the impacts were also a concern. For example, increased visitor footfall at the Ring of Brodgar combined with climate-change linked shifts in rainfall patterns contributes to serious erosion of path surfaces in an around the Ring, which risks both the integrity of the monument, potentially impacts unexcavated archaeological deposits, and damages the experience of visitors to the site (both residents and tourists). More broadly, other climate impacts may lead to large-scale changes in the surrounding landscape, impacting both archaeological sites that are important in understanding the WHS, and also possibly driving shifts in vegetation cover as farming practice and natural plant ecosystems respond to a changing climate.
Historic Environment Scotland have been leading the way in assessing the risk climate change poses to sites in Scotland. Their work was presented to the 43rd session of the World Heritage Committee which took place in Baku, Azerbaijan in 2019.
---
Studley Royal and Fountains Abbey WHS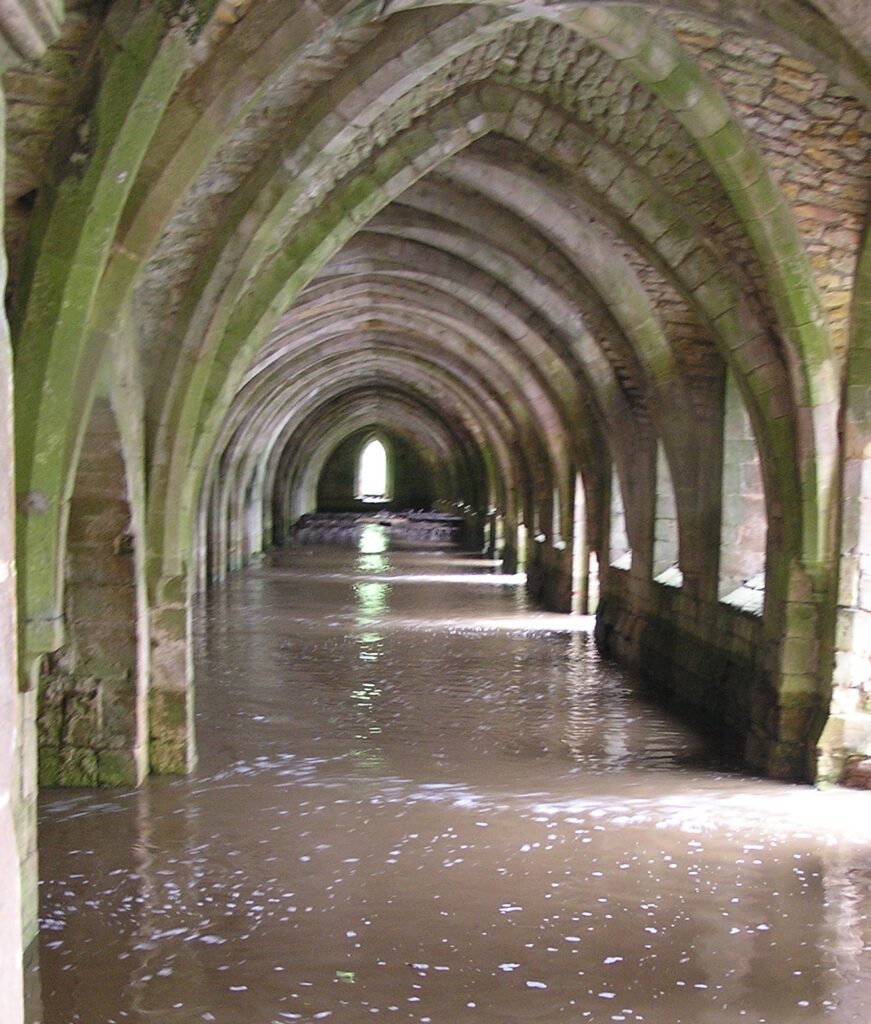 'There is a deep relationship between the heritage and river; the world-class water gardens would not exist without the Skell and yet at times the Skell threatens their very existence.' Sarah France, World Heritage Coordinator
In 2007 and 2012 the river that flows through the World Heritage Site burst its banks causing catastrophic flooding to the ruins of Fountains Abbey and the 18th century water garden.
Working with Nidderdale AONB, farmers and landowners and our local community we submitted a successful bid to the National Lottery for the Skell Valley project. This £2.5M project will transform the river valley making heritage, places and people more resilient to the impacts of climate change. Natural Flood Management measures upstream of the World Heritage Site will slow the flow of water and reduce soil run-off into the river.
---
Derwent Valley Mills WHS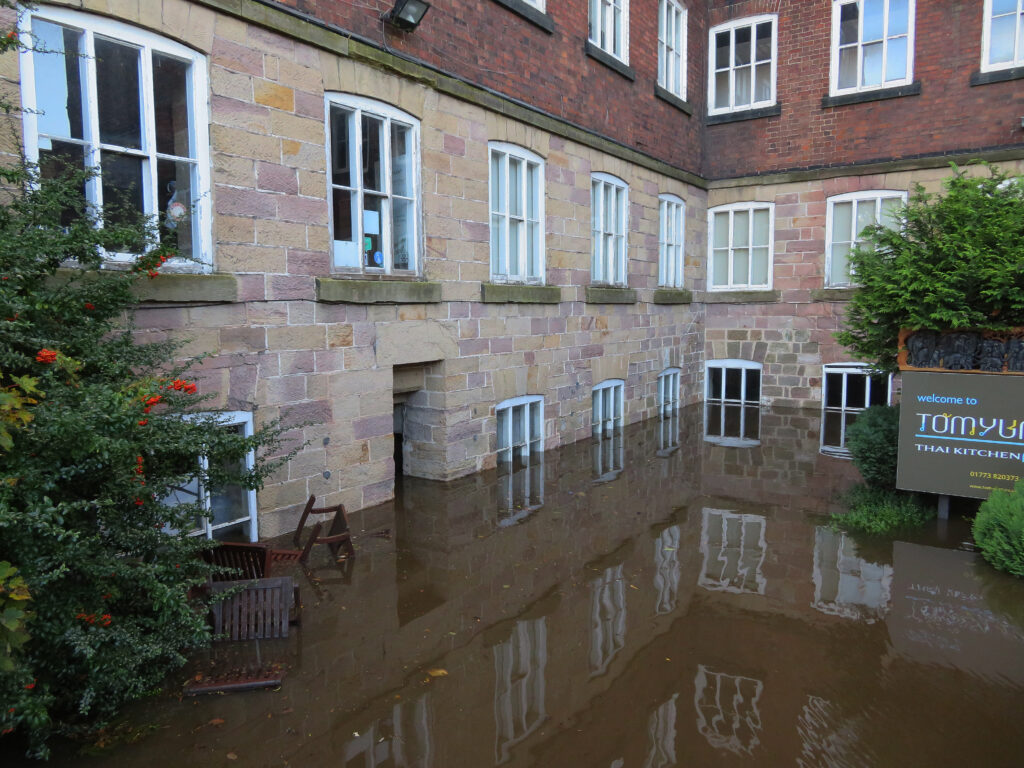 'Flooding along the River Derwent has always been problematic for the mill-owners in Derbyshire, but the severity and frequency has increased in recent years.' Adrian Farmer, World Heritage Coordinator
The floods of November 2019 resulted in water nearly two metres in depth, flooding the ground-breaking North Mill at Belper. Flooding along the River Derwent has always been problematic for the mill-owners in Derbyshire, but the severity and frequency has increased in recent years.
The new management plan for the Derwent Valley Mills World Heritage Site has as Objective 1.9 'Ensure owners and partners have plans in place to accommodate unexpected change, such as natural disasters and climate change'. It also supports flood mitigation measures within the World Heritage Site that do not impact on its Outstanding Universal Value.
---
Durham Castle & Cathedral WHS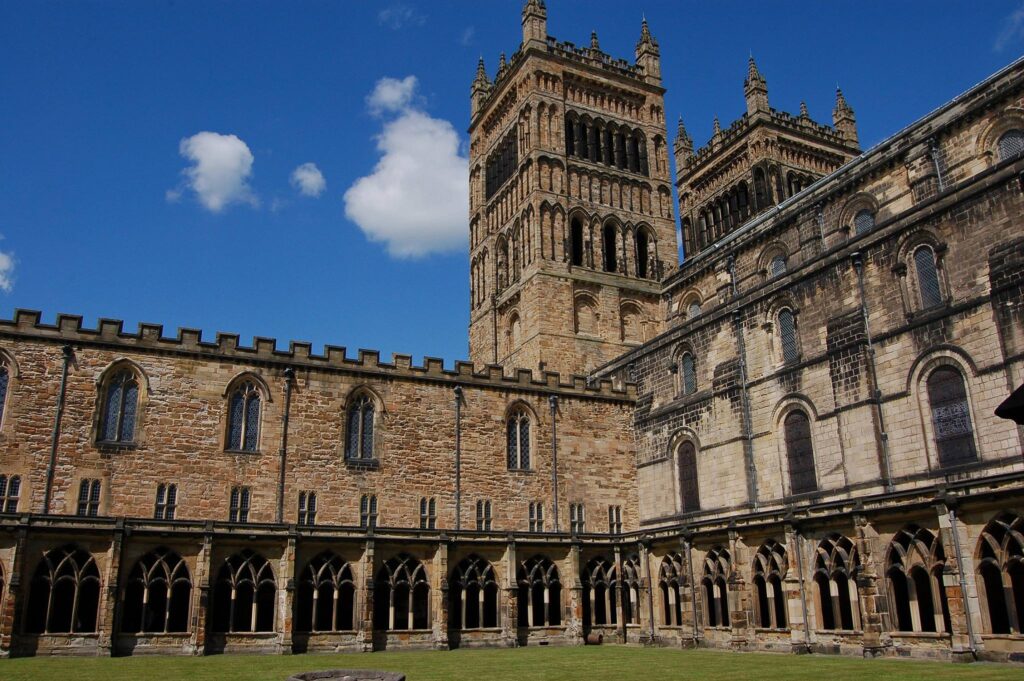 'The roof structure of our 12th century Cloister has been propped since 2016 due to critical structural concerns. The underlying reason are gutters and downpipes which are too small for the increased rainfall we are having.' Maya Polenz, Chief Property Officer, Durham Cathedral
The mediaeval Cloister at Durham Cathedral is suffering due to increased rainfall levels. The roofs of the Nave, the South Aisle and the Western Towers discharge rainfall onto the Cloister's North range. The historic parapet gutters, downpipes and gullies cannot cope anymore, so water continually ponds during episodes of rainfall and is seeping into the underlying roof structure. This leads to substantial wet rot to the concealed faces of the beams, with the main medieval angle beams at each corner of the Cloister most affected. Emergency propping has been in place since early 2016 due to these critical structural concerns.
As well as being of historic significance, the Cloister is of vital importance for access to and from the Cathedral. It is also part of an important regional habitat for Common Pipistrelle bats, which are seen swarming the Cloister walks in late summer every year. Their ongoing protection would form an integral part of any repair proposals. Durham Cathedral is Grade 1 listed and forms a key element of the Durham World Heritage Site. The present Cloister stems from a rebuilding in the early 15th century which included the timber ceiling. The parapets were extensively repaired in 1829.
---
What we're doing as a community of World Heritage Sites to tackle climate change
Climate change is happening now and the people that care for our World Heritage Sites are already taking action. This can range from mitigating the flood risk to World Heritage Sites as we're seeing at Fountains Abbey and Studley Royal and Derwent Valley Mills or taking measure to adapt our places as at Bath.
Our World Heritage Sites can also play a part in carbon capture and reducing our carbon footprint. We can also lead the way in improving the energy efficiency of our buildings and reducing our energy usage. As a community of World Heritage Sites we also want to use our voices and places to inspire people to take action by sharing our experiences widely and engaging people in our work.
We've already set up a Climate Change Network where we can share ideas. The following case studies showcase some of our work.
---
Carbon capture in The Flow Country tentative WHS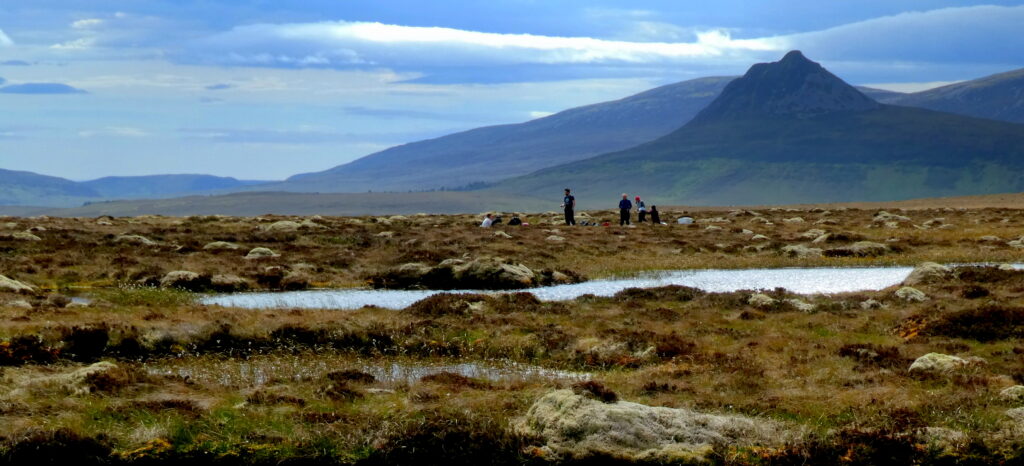 The Flow Country peatlands are being nominated for World Heritage status on the basis of the outstanding examples of ongoing ecological and biological processes and the natural habitats and biological diversity it holds. Containing depths of peat that reach up to 10 m and covering an area in excess of 140,000 ha it acts as a truly huge store of carbon. More importantly the ongoing process of peat formation through the growth of sphagnum mosses and other specialised plants, and their burial in water-logged conditions, leads to the sequestration of carbon from our atmosphere and helps in the battle against climate change.
More information can be found on the Flow Country website www.theflowcountry.org.uk/
---
Cleveland Pools Restoration Project in City of Bath WHS – a case study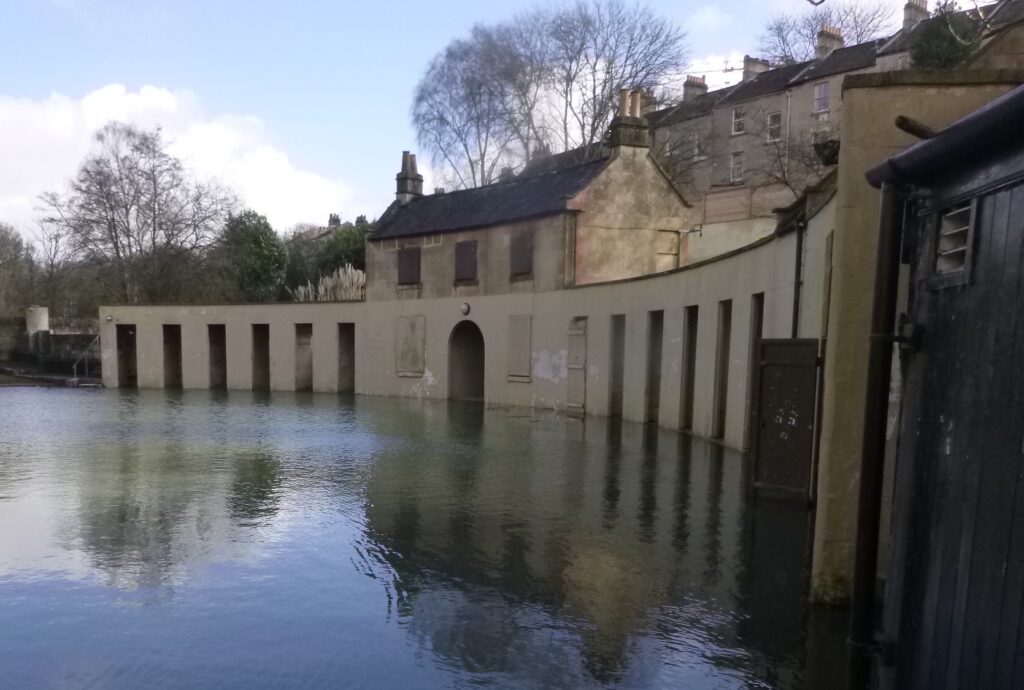 The team at the Cleveland Pools restoration project in Bath World Heritage Site are not only increasingly aware of the potential impact of climate change on our site (in our case flood risk) but are also making positive moves to try to mitigate the environmental impact of running a lido.
The flooding on site in recent years is a product of both groundwater saturation and the immediately adjacent River Avon flooding. In developing our plans for the current restoration project the Cleveland Pools Trust consulted with the Environment Agency and agreed the most realistic option was to allow the site to flood, rather than installing any particular defences, and instead design with this in mind. We have therefore developed the plans for the site taking this into account, locating our plantroom as far up-slope from the riverside as possible, alongside running all services at high level such that there is limited disruption or damage after a flood. All finishes are designed to withstand pressure washing such that a quick 'clean up operation' can be undertaken after a flood, and the site can be reopened quickly.
Typically lidos are heated using gas boilers, but the project wanted to find another more sustainable option. We have therefore developed plans, and received specific funding, for the installation of a Water Source Heat Pump which will take energy from the adjacent river to heat the pool water. We have been lucky not only to have support from the National Lottery Heritage Fund but also the Public Sector Decarbonisation Fund, which granted us just over £500k to fund the heat pump.
---
Old and New Towns of Edinburgh WHS
In late May 2021, heritage and climate experts from around the world met to discuss the threat climate change represents to the Old & New Towns of Edinburgh UNESCO World Heritage Site. In this event from the Edinburgh World Heritage Trust which took place in June 2021, a panel of experts reviewed their conclusions and set out the ways in which heritage can be protected in the face of changing and potentially extreme climate.
The expert panel consisted of Associate Professor Scott Heron, co-developer of the CVI process, from James Cook University, Dr Rebecca Jones, Head of Archaeology & World Heritage, and David Harkin, Climate Change Scientist, from Historic Environment Scotland, Jenny Bruce, World Heritage Site Coordinator, and Yann Grandgirard, Climate Change Manager, from Edinburgh World Heritage.
This event showcased the results of a climate vulnerability workshop held across two weeks in late May 2021, which used, for the first time in an urban setting, the CVI tool developed by scientists at James Cook University. The workshop engaged a diverse range of people, including professionals from different sectors, heritage and climate experts, and representatives of the local community.
Edinburgh World Heritage Site has produced useful guidance on ways that property owners can help to protect their buildings in the face of climate change which many others may find useful.
---
Travel planning in Saltaire WHS – a case study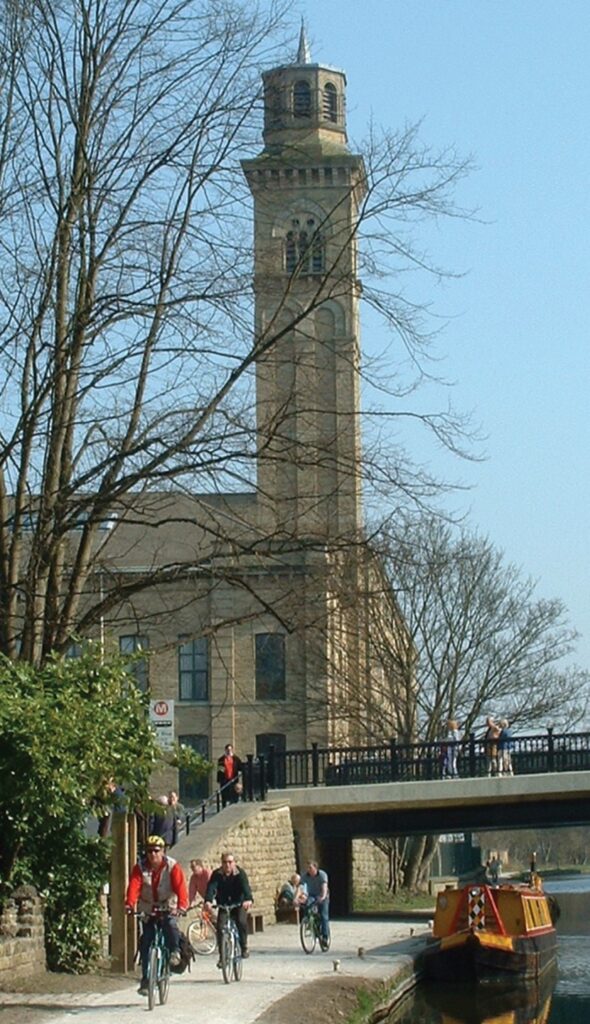 The Saltaire World Heritage Management Plan incorporates a Delivery Plan which includes an objective (4) to "Develop, promote and support environmental sustainability across all activities in Saltaire, its immediate setting and Buffer Zone". To achieve this objective, the Plan included an action (4.1) to "develop and implement a sustainable travel plan for the WHS to include travel by residents and visitors".
The travel plan is a long term management strategy that seeks to deliver sustainable transport objectives through action and articulated in a document that is regularly reviewed. A travel plan involves identifying an appropriate package of measures aimed at promoting sustainable travel, with an emphasis on reducing reliance on single occupancy car journeys
Travel plans can assist in increasing accessibility whilst reducing local air pollution, greenhouse gases and noise. Importantly, in increasing accessibility in a sustainable and efficient way, travel plans are widely recognised for contributing to economic vitality through transport improvements, better use of existing capacity, behavioural change and enabling clean and inclusive growth and promoting health and wellbeing.
The Saltaire Travel Plan is primarily focused on travel to, from and within the World Heritage Site itself, not its buffer zone. It covers travel by residents, visitors and employees within the World Heritage Site.
Alongside the Saltaire Travel Plan there is also a proposal to trial Saltaire as an Active Travel Neighbourhood (ATN) as a result of Bradford Council successfully securing £2m from the second tranche of the Active Travel Fund. ATNs are areas where a number of residential side streets are closed to motorised vehicles and other measures introduced to discourage non-local traffic from using these streets to cut through an area. Consultation was launched in July to give local residents, businesses and users of the area to opportunity to identify local traffic issues and have their say on the proposals
---
Improving flood defences at Ironbridge WHS – a case study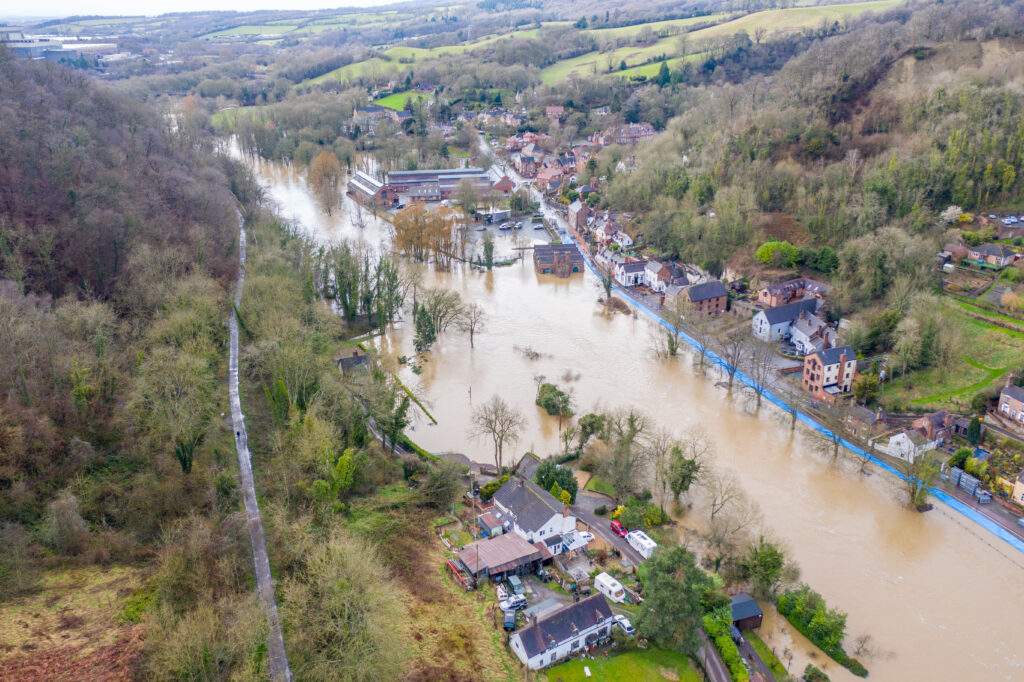 The area around central Ironbridge has seen the highest river levels since 2000 and these levels have happened two years in a row causing severe flooding throughout the World Heritage Site.
Due to the devastating effects of flooding in the Ironbridge Gorge World Heritage Site, Telford and Wrekin Council issued an open letter to the Environment Secretary, George Eustice in February 2021. The letter stated "Less than one year after the devastating impact of storm Dennis in February 2020, sadly Telford & Wrekin Council is writing to you again to confirm that our communities along the length of the River Severn have flooded once again. The frequency of these events is without doubt increasing and with the effects of climate change, we can only expect this situation to get worse."
The letter goes on to say "This reoccurrence is having a detrimental impact on economic activity in the area but also the internationally important World Heritage Site and birthplace of the Industrial Revolution. Telford and Wrekin Council, in supporting our residents and businesses, can typically spend up to £300,000 each time the barriers are deployed in responding to flooding along this 6km length of River in this World Heritage Site."
The letter outlined the issues that flooding presents but the overall impact on the World Heritage Site cannot be understated. Flood waters caused significant damage to several listed buildings along the river, some are still having conservation work undertaken. Ironbridge Gorge Museum Trust have recently reported that parts of their museum displays and exhibitions are also being removed altogether due to rotten timbers following the ingress of water. The finance to replace these leaving less funding for vital conservation work on the historic estate in their care.
Destination Tourism is also fundamental in ensuring revenue for organisations in the Ironbridge Gorge. Visitor confidence was significantly affected by the flooding with visitor numbers to the World Heritage site plummeting in periods during and after the floods. This missing income for organisations across the World Heritage Site leaves them in a difficult position, some choosing to leave their businesses, some not having the funds to carry out work to repair their properties. This ripple effect has a lasting affect on the attributes of Outstanding Universal Value of the World Heritage Site and reduces appeal for tourists, risking a vicious circle. The Environment Agency are currently working to improve the flood defences in Ironbridge.
---
Case Studies.
Find out what UK World Heritage Sites are doing to tackle the impact of climate change on our Articles page. Join in the conversation and share your stories with us as we work together to protect our World Heritage Sites together
Resources.
Check out the Climate Change section on our Resources page to see links to reports and presentations to help you manage climate change where you are